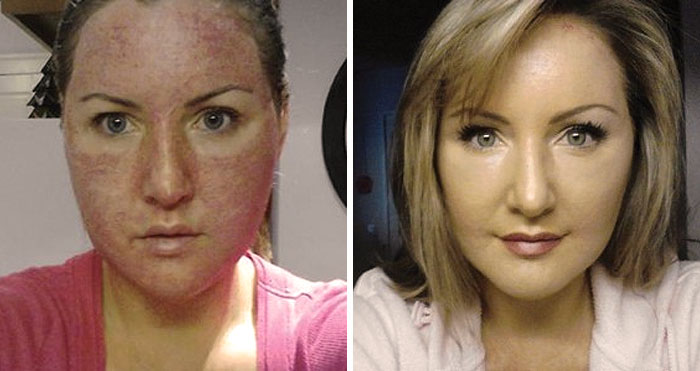 Before and After – Oxygenetix Foundation after pinpoint laser treatment
---
Oxygenetix Foundation & Moisturiser
Oxygenetix is a new breakthrough, Oxygenating Foundation and Moisturiser that works like a virtual, breathable, second-skin.
Besides being the first truly breathable makeup, this Foundation contains Ceravitae Complex, a patent-pending formula proven to increase oxygen uptake, stimulate skin cell production, and help promote the healing process following a range of procedures.
Oxygenetix Foundation gives complete and natural coverage to even the most sensitive and compromised skin. When applied independently, or over Oxygenetix Moisturiser, this acts as a virtual second-skin, allowing your own skin to breathe, with no occlusive oils to interfere with your body's natural healing processes.
Oxygenetix Foundation's second-skin technology creates a delivery system that allows Ceravitae to:
– Speed connective tissue reconstruction
– Systematically build collagen layers
– Reinforce natural skin healing
The Results:
– Less downtime
– Complete, undetectable coverage from day one
– Reduced scar tissue
– Continuous protection with continued use
This Oxygenetix Foundation is also:
– Water-resistant up to 90 minutes
– SPF 25
– Transfer-resistant
– Hypo-allergenic
– Completely non-irritating, even to acne, rosacea, psoriasis, or eczema
This Foundation is breathable and non-transferrable, meaning it won't rub off on your clothes – or anyone else's. It's breathability allows for, and promotes, better wound healing.
With this Foundation you can undergo a procedure and continue your day with nobody wise to the fact.
Oxygenetix Foundation is available in 14 shades, split into seven blue-based and seven yellow-based colour choices. It's second-skin quality not only promotes faster recovery from clinical treatments, it also assists in the resolution of problem conditions, like acne or rosacea, and continues to improve skin quality even after these issues are resolved.
Oxygenetix Foundation can be used for:
– Aftercare protocol / post resurfacing treatments such as laser work and peels
– Burns and other types of scarring
– Acne
– Rosacea
– Melasma
– Port wine stains and birthmarks
– Eczema
– Psoriasis
– Sensitive or reactive skin