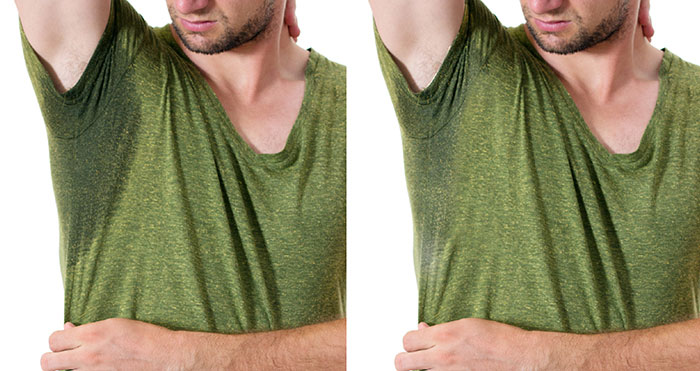 ---
Excessive Sweating? Symptoms & Treatment –
Excessive sweating or hyperhidrosis is caused by stimulation of the sweat glands by nerve endings which descend from higher centers in the brain. These nerves respond to emotional stresses; like intimate social situations, public speaking, physical stresses and increased body temperature that comes with exercise or hot, humid weather.
Most people with excessive sweating are bothered primarily when they are emotionally stressed, physically active, or over-heated. Botox®/Xeomin® can prevent excessive sweating for months by blocking the release of the neurotransmitter, i.e., acetylcholine, from the nerve endings that cause the glands to produce sweat.
How is Botox®/Xeomin® administered?
Botox® is injected via a very small needle into the hair-bearing skin of each underarm. Normal activity can be immediately resumed, while heavy exercise should be avoided for several hours.
When will Botox®/Xeomin® take effect?
Excessive sweating in underarms will be decreased by 90% within 48 hours and full effect will be seen within one week. There may be a simultaneous disappearance of odour associated with decreased sweating, but this is not consistent.
How long does Botox®/Xeomin® last?
Most patients will obtain the benefit of dryness with one treatment of Botox®/Xeomin® for six to ten months.
What are the risks and complications?
Most common complications from injection into the axillary skin include tiny bruises which fade in a few days, and small persistent areas of sweating that may need a second treatment.
What is the downtime after Botox®/Xeomin®?
As with any procedure involving needles, there is a small chance of mild bruising or mild transient redness at the area of injection. The procedure takes about 5 minutes and you may drive after it. There are no restrictions on your activity thereafter, although vigorous exercise is not advised for 24 hours after treatment.
---
If you are interested in learning more about Botox®/Xeomin® use for any of these treatments, please contact Clinic Eleven on 04-298 7600 to schedule a consultation with one of our Cosmetic Medicine Nurses.
Make an appointment
---
Please take the time to read our Botulinum Toxin Type A page as this informs you of the contraindications and side-effects of these treatments. Botulinum Toxin is a medicine and must be treated as such, only to be injected by a Registered Medical Professional.
All before and after photos on the Clinic Eleven website are genuine untouched photographs of our patients. Because results may vary from patient to patient the photos provide guidance only to the possible results. Your individual results may vary from those seen in the photographs for a variety of reasons. All before and after photographs are © Clinic Eleven.
BOTOX® is a prescription medicine containing 100 units of Clostridium Botulinum Type A toxin complex for injection. It is used for the treatment of severe frown lines and associated 'crow's feet' around the eyes. It should be administered only by trained medical professionals. Talk to your specialists about the benefits/risks of this procedure in appearance medicine. Cautions: people with neuro-muscular transmission disorders, presence of infection at site of injection, pregnancy and lactation. Possible side effects include headaches, pain, burning sensation or redness at injection site, temporary local muscle weakness including eyelid droop, decreased sensation and nausea. If you have side effects or concerns, talk to your doctor. A charge applies. Allergan Pharmaceutical, Auckland.
Xeomin® is a Prescription Medicine containing 50, 100 LD50 Units of clostridium botulinum Type A toxin complex for injection. It is used for the treatment of frown lines on the forehead in adults. It should be administered only by trained medical professionals. Talk to your specialist about the benefits/risks of this procedure in appearance medicine. Xeomin treatment lasts about four months and further courses of treatment may be necessary. Cautions: Generalised disorders of muscle activity; Infection or inflammation at the proposed injection sites, pregnancy and lactation. Possible side effects: headache, pain, swelling or infection at injection site, local muscle weakness including drooping eye lids, lack of feeling & nausea. You will need to pay for this medicine. Discuss with your specialist if Xeomin is right for you. For more information or for a copy of CMI please contact the NZ distributor: NZMS Ltd: 2a Fisher Crescent, Mt Wellington, Auckland, Ph 09 259 4062.TAPS NA7621.